Thoughts from Fountain House . . .
There are many different ways to help. When understanding, acceptance, patience, and respect are involved, goals are sure to be reached. People who have become shut off from the usual norms of society: family, and the workplace, often find it difficult to reestablish those ties. Daily problems, difficult burdens and the restoration of self-esteem become insurmountable issues without the help of an accepting, supportive community. The source of this success flows from a realistic understanding of self, coupled with the constructive support of fellow sufferers, which will lend wings to the awakening of new dreams. Forras House is that kind of source. This is a place for all residents of Kispest, who want to take advantage of the opportunities offered here; the hope for a better quality of life – undertaken bravely through the difficult road to recovery. Our professional team consists of doctors, nurses, psychologists, therapists, and sociologists, who daily use their skills, experiences and belief in human dignity, to help those on the road to recovery.
It is not always possible do what needs to be done;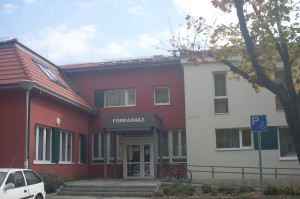 however, we must always do what is possible to be done. -Bethlen Gábor.
Our long-term goal: to establish a multi-service facility in Kispest helping psychiatric patients, to aid in the prevention of social isolation, to improve life management skills and flexibility through a range of programs which provide the necessary skills for re-entering the job market, improve working habits and reintegration into society.